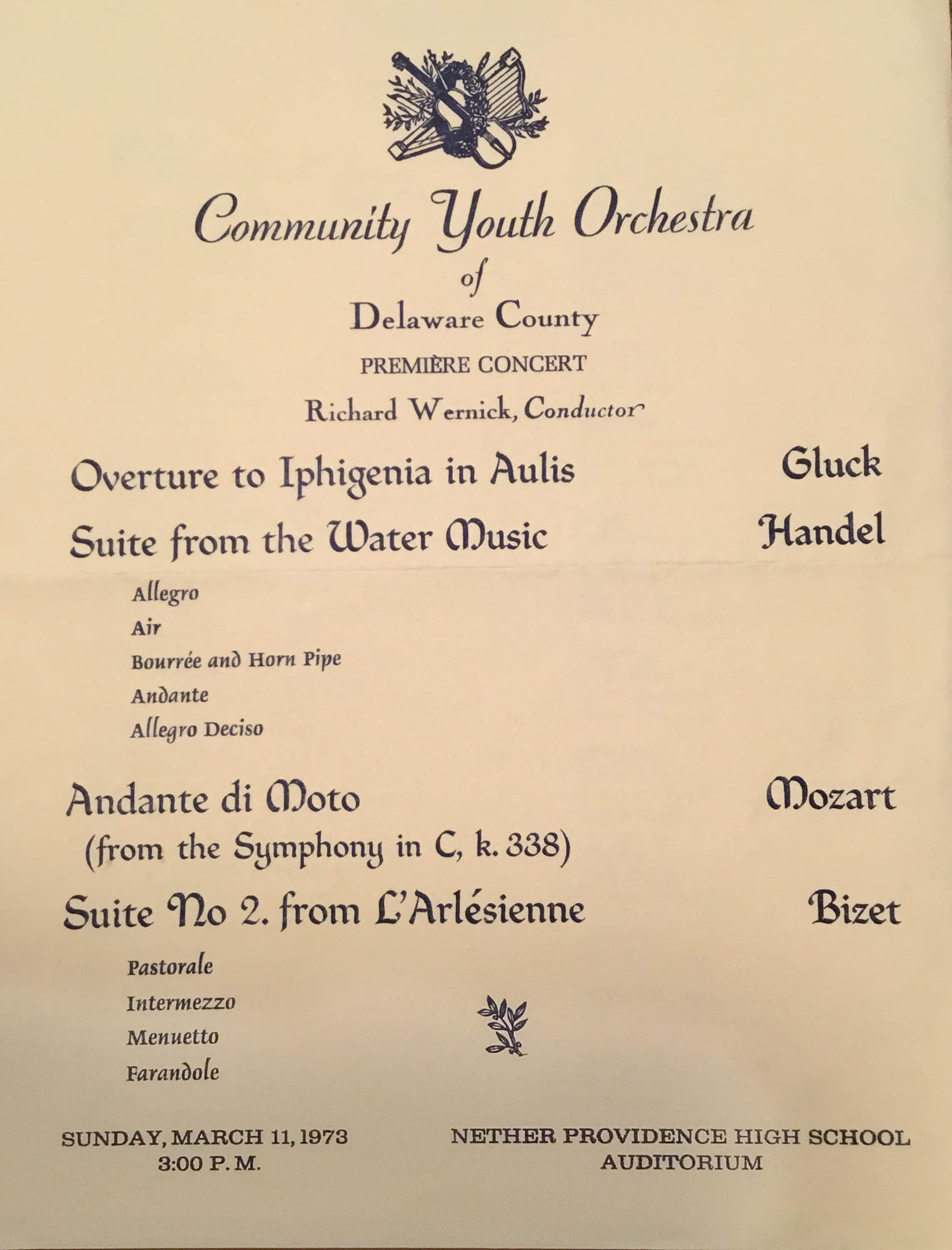 The Delaware County Youth Orchestra was founded by a core of six people, including the parents in two families and their childrens' music teachers. Their intent was to provide higher-level music education than was available through the public schools. The founders of DCYO included Richard and Beatrice Wernick, George and Elizabeth Crumb, Jerome Wigler and Bert Phillips. In 1973-74, Richard Wernick served as the first music director, followed by Eugene Narmour, Rosalind Erwin, Richard Vanstone, J. Karla Lemon, Thomas Hong, and Brad Smith. Andrew Hauze, who is on the faculty at Swarthmore College, was named DCYO Music Director and Conductor in 2014.
DCYO students have also enjoyed the privilege of working under such notable guest conductors as Robert Page, William Smith, Cristian Măcelaru and Lio Kuokman, and rehearsing the tone poem blue cathedral with composer Jennifer Higdon. Under the baton of Music Director Andrew Hauze, DCYO performs three concerts a year in locations throughout the Delaware Valley.
The Young Musicians' Orchestra is a full symphony orchestra for intermediate-level players, most of whom are in middle school. YMO was originally formed as a chamber orchestra in 1989, under the management of string teacher Barbara Ostroff and the direction of Brian Cox. In 1994, A. Scott Kiehner became conductor and music director. Over his 16-year tenure, he helped develop the group into its current form as a full symphony orchestra. During Mr. Keihner's tenure, he was assisted variously by student director Caitlin Cavanaugh and co-directors David Reif, Elizabeth Klinger, and Miku Shiota. After serving as co-director with Ms. Shiota since 2015, Nicholas Pignataro was named sole Music Director and Conductor of YMO in 2020.
The Delaware County Youth Orchestra and Young Musicians' Orchestra are incorporated under the Non-Profit Law of Pennsylvania. Financial support comes from individuals, corporations, and foundations.
Board of Directors
Shiva Kapsi (President)
Carol Briselli
Ann Byun
Michele S. de Cruz-Saenz
Matt Hamermesh
Eric Jones
Alison Manaker
Kathryn Mehrtens
Anne Peterson
John Tobias
Charles Zerweck
Director of Operations
Charles Mathews
Advisory Committee
Bonnie Brebach
David Cramer
James Freeman
Lenora Hume
David Kim
Lisa Liem
Lorne Munroe
Eugene Narmour
Barbara Ostroff
Reine Patterson
George Slick
Alice Strine
Richard Veleta
Klaus Volpert
Beatrice Wernick
Richard Wernick