Fall 2011 Program Notes
---
Performances: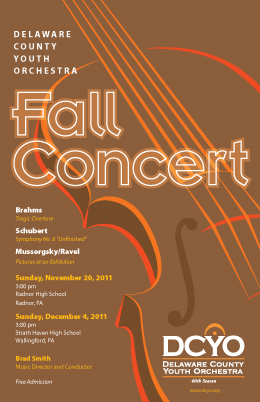 Sunday, November 20, 2011
3:00 PM
Radnor High School
Radnor, PA
Sunday, December 4, 2011
3:00 PM
Strath Haven High School
Wallingford, PA
Program:
Brahms, Tragic Overture

Schubert, Symphony No. 8 "Unfinished"
Mussorgsky/Ravel,
Pictures at an Exhibition
Notes:
By Alison Manaker, Betsy Bolton and John Ebbert
Johannes Brahms (1833-1897)
Tragic Overture, Op. 81 (1880)
A somber piece, the Tragic Overture honors the spirit of tragedy, rather than referring to any specific drama or narrative. Brahms chose the title "Tragic" to emphasize the stormy, tempestuous character of the piece, in contrast to the merry liveliness of a companion piece, the Academic Festival Overture. It is often said that one overture laughs while the other weeps.
In the form of an expanded sonata, this free-standing symphonic movement is full of movement and dynamism. The tension between solemn, quiet restraint and the unleashed power of the orchestra adds to the grandeur of this remarkable piece.
The primary theme is vibrant and bold, full of hammer-like chords and clipped dotted rhythms, drawing on the active involvement of the full orchestra. This intensely powerful opening provides thematic material for development throughout the overture.
The secondary theme in F major is a gentle melody in the violins and flutes with many arpeggios in the low strings. The "tragic" mood soon returns with fanfare. A muscular call and response between the brass and the strings provides additional drama, followed by punchy staccato notes, tapering to a calm finish with the primary theme.
The development begins with an abrupt change in tempo and rhythm. A slow march in D minor evokes the dotted rhythm from the opening music. While the first theme tries to assert itself, the strings recall the second, arpeggiated theme, now in D major.
After the recapitulation, the hammer blows return to introduce a stormy coda. Trumpet, horn fanfares, and timpani falsely prepare us for a huge chord, which Brahms withholds, providing instead a quiet lyrical section in the strings. The turbulence returns with triplet scales, finishing with driving intensity in the original D minor key.
—Alison Manaker
Sources:
Freed, Richard: Program Notes for Oct 6-8, 2005 performances by National Symphony Orchestra at the Kennedy Center.
Frisch, Walter: Brahms, Johannes, §9: Orchestral works and concertos. Grove Music Online (subscription access from Oxford Music Online via Delaware County Library System).
Hansen, Kelly Dean: "Johannes Brahms – 'Tragic' Overture, Op. 81".
Kelly, C. Michael: Program Notes for Nov 19, 2005 performance by Immaculata Symphony.
Serotsky, Paul: "Brahms (1833-97) – Tragic Overture."
Simon, Robert: The Overture is About to Start, Program Notes for Holyoke Civic Symphony (posted April 26, 2011 by David Kidwell).
Franz Schubert (1797-1828)
Symphony No. 8 in B Minor, D. 759 "Unfinished"
When he died at age 31, Franz Schubert, known to his friends as "Schwämmerl" or "little mushroom," left an astounding body of work, including 600 Lieder or art songs, and nine symphonies. The "Unfinished" B-minor symphony is one of his most famous and popular orchestral pieces, though it was performed for the first time 37 years after Schubert's death.
In 1823, the Graz Music Society gave Schubert an honorary diploma. In return, Schubert gave his friend Anselm Hüttenbrenner, a member of the society, a score he had written in 1822. It consisted of two finished movements and the fragment of a third scherzo movement. Yet for reasons that remain unclear, Hüttenbrenner never gave the work to the Music Society; he only shared the piece with the Vienna Musikverein in 1865.
The first movement, Allegro moderato in B minor, is in sonata form, including an introduction, exposition, development, recapitulation, and coda. The cellos and basses open softly and melodically; the first subject is introduced by oboe and clarinet; the second subject (in the unusual submediant key of G major) is played by the cellos and repeated by the violins. The second theme is interrupted by a measure of silence, followed by orchestral tumult before a brief return to calm.
The second movement, Andante con moto in E major, opens very peacefully with basses and violins, but becomes more majestic with the emphatic entry of trumpets, trombone, and timpani. A solo clarinet then introduces the second theme in a new key of C-sharp minor before passing the melody to the oboe. Sharp contrasts in mood persist until the end of the movement, when the peaceful E major is re-established in the coda.
Critics have argued that the two movements of the "Unfinished" constitute a complete, albeit asymmetrical symphony, but Schubert, struggling to live up to Beethoven's model, also left other symphony projects unfinished around this same time.
At his request, Schubert was buried next to Beethoven. Adorno offers a kind of epitaph: "the stars that burn for Schubert's music are the same as those towards whose unattainable light Beethoven's clenched fist reached out." He sees in Schubert's music "the promise of what one day we ourselves will be. This is music we cannot decipher, but it holds up to our blurred, over-brimming eyes the secret of reconciliation at long last."
—Betsy Bolton
Sources:
Adorno, Theodor: "Schubert" (1928), translated by Jonathan Dunsby and Beate Perrey, 19th-Century Music, Vol. 29, No. 1 (Summer 2005), pp. 003-014.
Horsley, Paul: Program note for National Symphony Orchestra performance March 25-28, 2010, http://www.kennedy-center.org
Kurth, Richard: "On the Subject of Schubert's 'Unfinished' Symphony: 'Was bedeutet die Bewegung?'" 19th-Century Music, Vol. 23, No. 1 (Summer, 1999), pp. 3-32.
Wikipedia
Modeste Mussorgsky (1839-1881), Maurice Ravel (1875-1937)
Pictures at an Exhibition (1874: originally a piano cycle; later orchestrated by Ravel)
Modeste Mussorgsky (1839-1881) was one of the five Russian nationalist composers
dubbed the Mighty Handful (or Mighty Five). The list also included Mily Balakirev
(1837-1910), Aleksander Borodin (1833-1887), César Cui (1835-1918), and Nikolay Rimsky-Korsakov (1844-1908). Together they developed a Russian nationalist style that combined the modes, exotic scales, and polyphony of Russian folk music with traits common to Western European composers such as Schumann, Liszt, and Chopin.
Mussorgsky was born on March 9, 1839, in the village of Karevo. Although his family
was of middle landed gentry, his heritage did include serf blood. His mother was his first piano teacher, and she always encouraged his efforts to compose. At the age of ten he went to St. Petersburg to continue piano studies with Anton Herke, to prepare for cadet school, and to be in the ways of an urban gentleman. He entered the Imperial Guards Cadet School in 1852 continuing piano lessons until 1854. Mussorgsky joined the Preobrazhensky Imperial Guards in1856 where he met composers Dargomyzhsky and Cui, eventually leading him to study composition with Balakirev. He resigned from the Guards in 1859 with the intention of becoming a full-time composer. Many of Mussorgsky's early works in the 1860s were abandoned because of self-doubt and insecurity over his own technical limitations. It was during this period that he suffered the first in a series of emotional crises which led to a life-long battle with alcoholism.
Mussorgsky's principal works include operas: Boris Godonov (1868-1869), Khovanshchina (the Khovansky affair, 1872-1880, completed after his death by Rimsky Korsakov); andworks including Night On Bald Mountain (1867, popularized by the 1940 WaltDisney film "Fantasia"), Pictures at an Exhibition (1874), song cycles including The Nursery (1872), Sunless (1874), and Songs and Dances of Death (1875). Pictures at an Exhibition was inspired by an exhibition of paintings, sketches, and designs by Mussorgsky's late friend Viktor Hartmann. Although it was later orchestrated by a number of composers, the most popular orchestration was completed in 1922 by Maurice Ravel, 41 years after Mussorgsky's death.
The piece opens with a Promenade, a musical description of visitors walking through the exhibition to view Hartmann's artwork. He brilliantly employs meter changes: 5/4, 6/4, and 3/2 in the opening Promenade to achieve an effect of the uneven gait of visitors casually strolling through the gallery. The Promenade is reprised between some of the sketches with each variation reflecting the mood of the previous image.
Promenade

I.

Gnomus (a child's nutcracker shaped like a gnome or a troll)
Promenade

II.

Il vecchio castello (The Old Castle – a troubadour singing in front of an ancient fortress)
Promen

ad

e
III.

Garden of the Tuileries

(a garden full of children playing and fighting among themselv

es)
IV.
Bydlo (a lumbering Polish oxcart)
Promenade

V.

Ballet des poussins dans leurs coques (The Ballet of Chicks in Their Shells – dancing children as chicks hatching from their shells)
VI.
Samuel Goldenburg und Schmuÿle (two Warsaw Jews: one successful, snobbish and vain and the other poor and whining)
VI.
Limoges – Le Marché (The Marketplace at Limoges – depicting vendors surrounded by shrill women's voices)
VIII.
Catacombae – Sepulcrum Romanum Cum mortuis in Lingua mortua


(the Catacombs of Paris)

IX.

La Cabane sur des pattes de poule (Baba-Yaga) (The Hut On Fowl's Legs – the home of a popular witch in Russian folk-lore; depicted as the face of an ornate clock)
X.
La Grande porte de Kiev (the design for a commemorative gate never constructed at Kiev; depicted by a grand processional hymn combining Russian and Western elements)
Maurice Ravel (1875-1937) is often linked with Claude Debussy as an impressionist, but
in reality his music reflects a variety of influences. The impressionist composers were influenced by the artists who pioneered the Impressionist movement: Renoir, Monet, Manet, Degas, and others. Their music, like the art of their contemporaries, sought to evoke impressions, rather than detailed dramatic portrayals of the subject. Some of Ravel's most notable works include a set of piano pieces entitled Miroirs (1904-1905), the orchestral suite Rapsodie espagnole (1907-1908), and the ballet Daphnis et Chloé (1909-1912). He was a brilliant craftsman, and his orchestration of Mussorgsky's Pictures at an Exhibition displays his stunning gift for colorful orchestration, a stark contrast to the manner in which Mussorgsky might have imagined it.
—John Ebbert
Sources:
Burkholder, Peter, Grout, Donald, and Palisca, Claude: A History of Western Music. New York: W.W. Norton & Company, Inc., 2005.
Gutmann, Peter: Classical Notes.
Reel, James: Rovi – All Music Guide to Classical Music.